 The Project
A sustainable food system and VET education innovation can provide high-quality green jobs and permit to create of new professional and entrepreneur profiles to fight unemployment and, at the same time, combat climate change and environmental decline from the food (and in part tourism) industry as well as promote the green transition of existing companies and the creation of new ones.
Download the infocards in all languages of the project.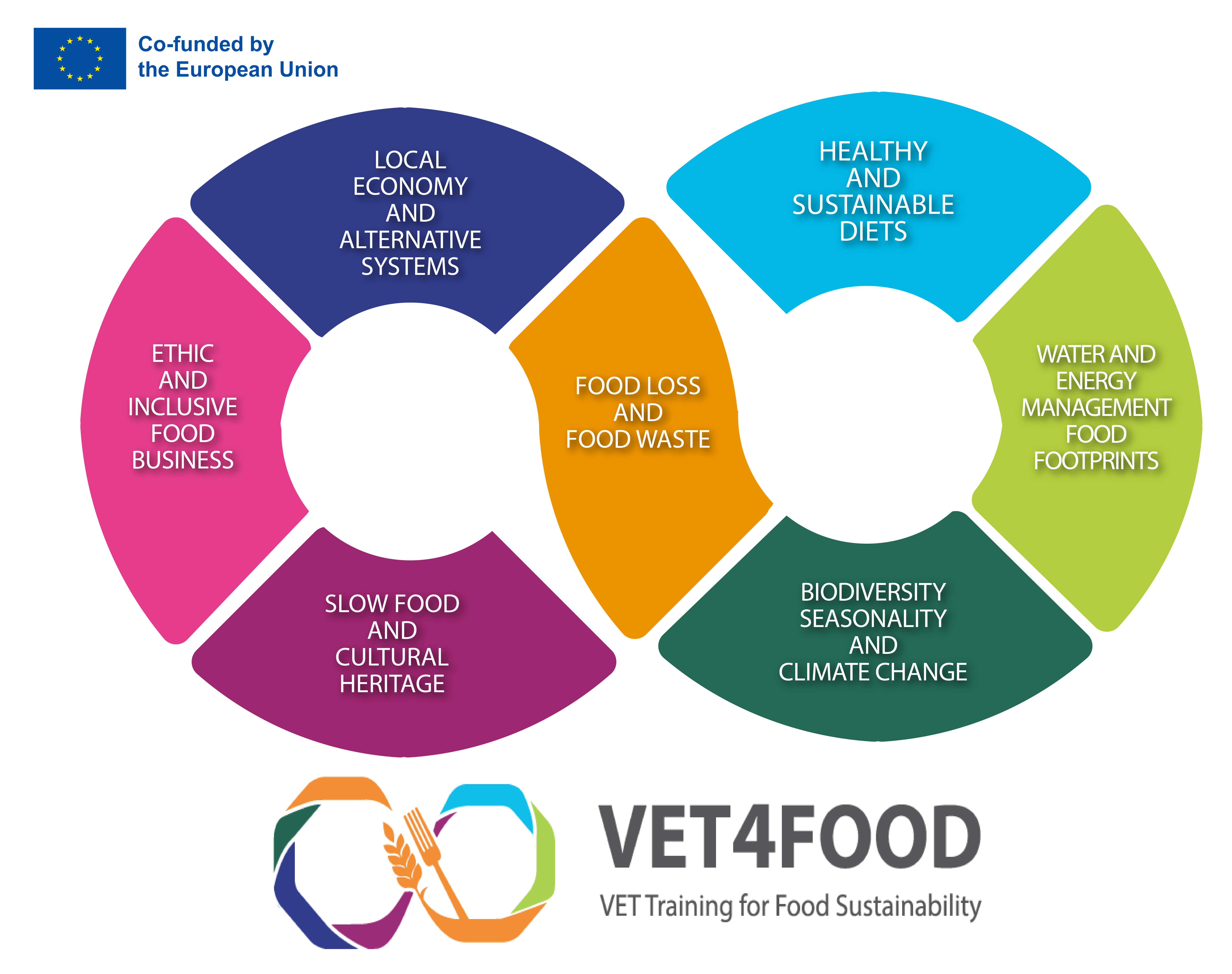 PR1 FOOD SUSTAINABILITY VET MODULE
The purpose of this first project outcome includes attitudes, skills and competencies to orientate professionals in food sectors towards a more sustainable food system by building a transversal Training Module for VET dedicated to food sustainability. The document analyses the situation in the partners' countries participating in the project.
Download the PR1  in all languages (coming soon) of the project.
Reduce the training gap within food VET schools.
To reduce the training gap within food VET schools regarding food sustainability issues, by improving the competence and skills on food sustainability of teachers and students and their awareness of its importance in the fight against climate change;
HOW:
Food Sustainability VET Module.The VET Module will introduce food sustainability issues from different point of view, depending on the involved teachers from food, social, economic, and nutritional areas of study.
Impulse the embedding sustainability in food VET school's curricula.
To impulse the embedding of food sustainability topics in food VET school's curricula, facilitating the implementation of a food sustainability module.
HOW:
Food Sustainability VET Students Training. It will be developed by teachers involved in the Food Sustainability VET Teachers Trainings on the main topics of food sustainability in four areas:
Nutritional
Ecological
Economic
Social
Improve the quality and efficiency of VET training.
To improve the quality and efficiency of mainstream vocational and educational training in order to meet the needs of tourism and food related sectors that requires staff capable of correctly taking on food sustainability related issues.
HOW:
Food Sustainability VET Teachers' Training. The training will contain material for the online and face-to-face learning and will be available to the partner schools' teachers participating to train them on the main topics of food sustainability.
Make VET teachers aware of the importance of increasing student participation.
Improve VET teachers skills in the use of educational entertainment techniques, and their digital competences to stimulate both face-to-face training and training online.
HOW:
Edutainment techniques and digital tools handbook for VET teachers.
The handbook for VET Teachers will be based, from one side, on the most important elements of edutainments and on the other side, will include digital tools for the teaching improvement based on the Bloom's taxonomy.